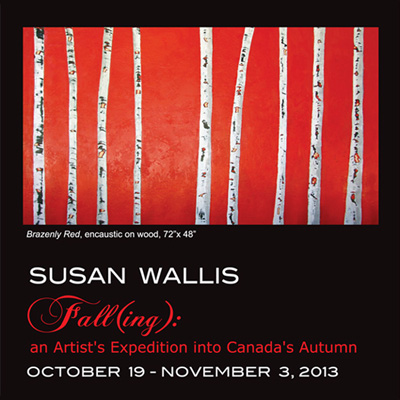 "Fall(ing): an Artist's Expedition into Canada's Autumn"
October 19 – November 3, 2013
Opening reception with artist present:
Saturday, October 19th from 2-5pm
In this new series, encaustic artist Susan Wallis explores the vibrant colours of the Autumn landscape where she resides in the bucolic landscape of Prince Edward County, Ontario. As a result, the show is comprised of bold canvases of oil encapsulated in wax, rich in depth and texture.
"I approached this series of work letting go of all restraints. Delving into the glorious and voluptuous colours of the season resulted in a personal creative exultation." — Susan Wallis
STAY CONNECTED
SUBSCRIBE TO RECEIVE EMAIL UPDATES ON ART EXHIBITIONS,
NEW ARRIVALS, SPECIAL EVENTS AND MORE…
GIFT CARD
...GIVE THE GIFT OF ART...