"Guess all that daydreaming during school paid off!" Tim Cotterill's bronze frog sculptures capture the whimsical character, the jewel-like quality, and the pure JOY of these beautiful little creatures. "Through…
---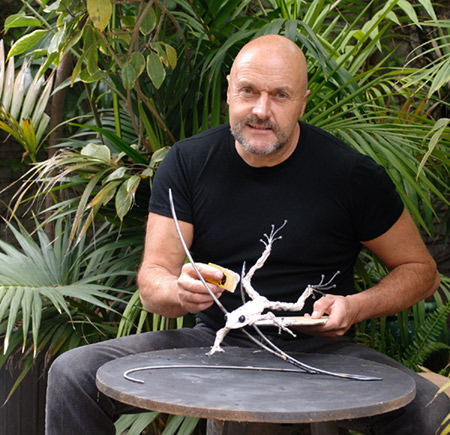 "Guess all that daydreaming during school paid off!" Tim Cotterill's bronze frog sculptures capture the whimsical character, the jewel-like quality, and the pure JOY of these beautiful little creatures. "Through the centuries and throughout the world, FROGS have symbolized many things – Good Luck, Royalty, Fertility, Magic Potions, Energy, Charm, Indiscretion, etc., etc. In today's fast world, life sometimes becomes complicated and stressful. As you can see, my art is not. It's Elegant, Stylish, and Whimsical & Unique and is pure FUN! It makes people SMILE! The more we smile, laugh, and feel happy, the healthier we become. I hope my art brings more happiness and joy into your life."
Tim Cotterill, The Frogman.
BIOGRAPHY
Tim Cotterill, FROGMAN, is world famous for his bronze frog collectables. He has an uncontrollable passion for frogs and loves everything about them — their faces, their webbed feet, their springy legs and their antic nature. He incorporates every possible expression, contour, and subtlety of these amphibians into his colourful enamelled bronzes.
Growing up in Great Britain, he developed a lifelong love of things that go "jump" in the night. Says Tim, "As a little boy, I always loved looking for frogs in the fields of England." Tim Cotterill apprenticed as an engineer intrigued with metalworking and soon became a master of metal sculptures. For the next ten years, he created over a thousand bird and animal sculptures in metal, many of which were sold at Sotheby's. Once he moved to Venice Beach, California, Cotterill discovered frogs as a sculptural form through which he could express his delightful sense of humor. What makes Frogman's frogs unique is that many bear human traits of different characters – a dancer, swimmer, the prince charming, etc.
These frogs are being snapped up by people all over the world, including many celebrities. Sales of Frogman's bronze frogs, geckos and koi fish sculptures make him the largest selling sculptor (of small bronzes) in the world. Since no two frogs are alike, the process is painstaking. Cotterill begins by forming a pose on a wire frame. "Then I'll get car body filler and start laying it on and sanding it back until it builds and builds." Finally, when it's smooth enough, he sends it off to his foundry to be cast in bronze.
STAY CONNECTED
SUBSCRIBE TO RECEIVE EMAIL UPDATES ON ART EXHIBITIONS,
NEW ARRIVALS, SPECIAL EVENTS AND MORE…
GIFT CARD
...GIVE THE GIFT OF ART...