Born in 1961 in Selec, Ukraine, since 2000 he lives and works in Toronto, Canada. Roman is a master of primitive abstraction using a cast of diverse characters at play,…
---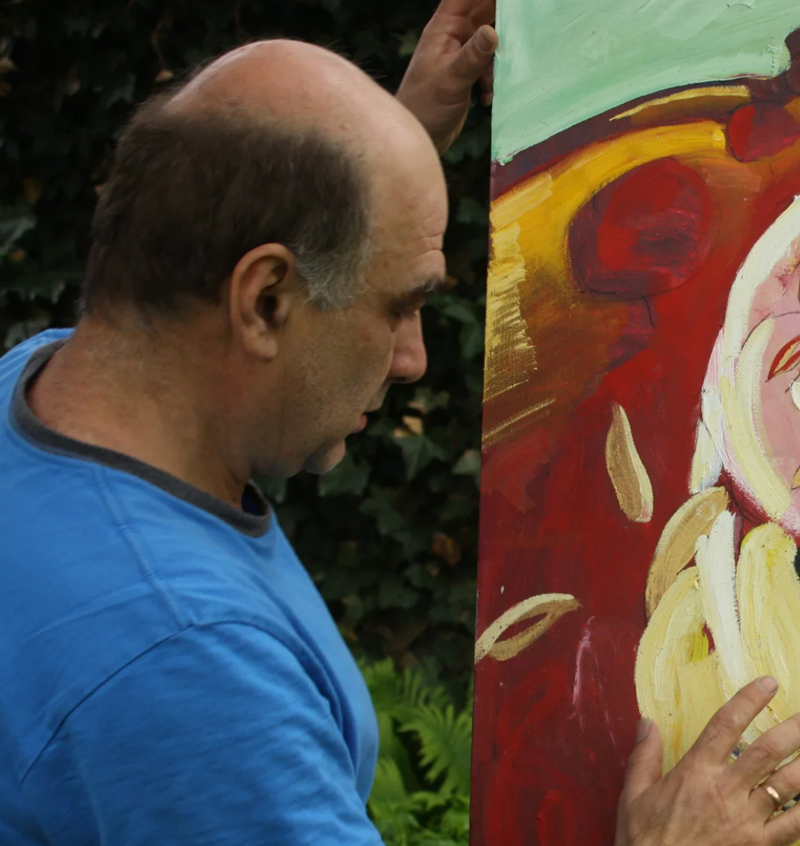 Born in 1961 in Selec, Ukraine, since 2000 he lives and works in Toronto, Canada.
Roman is a master of primitive abstraction using a cast of diverse characters at play, dance, who perform everyday tasks in a ways that border on fantasy. His pictures tell stories with a bright rich bold palette. His art brings together everyday and extraordinary, rural and urban, past and present, reality and fantasy.
Coming from a small rural town with limited resources he began drawing from nature, his first subjects were the cows in the fields, the chickens in the yard and geese on the pond. Only after mastering sophisticated painting techniques at the prestigious Kiev Academy of Art did he settled into his primitive style.
In the early nineties, Roman Zuzuk moved to Prague – entered the artistic capital of the time and brought with him a warm and jubilant palette, a repertoire of expressive figures, all refreshingly poised to dance or play an instrument or float above the viewers eyes. Quite remarkable! The art world took note and soon Roman Zuzuk's paintings were exhibited in galleries around Europe and the world – attracting interest and collectors as diverse as the characters that live in his work.
Roman Zuzuk's sophisticated painting technique and his work in primitive abstraction was developed only through rigorous classical schooling. He graduated from the prestigious Kiev Academy of Fine Arts. His art is truly an amalgamation of everyday and the extraordinary which straddle the worlds of rural and urban, a sentimental past and hopeful future. But it is his eclectic foray into the tension of accepting reality over the magnetic force of fantasy and all that world has to offer, that Zuzuk's work inspires man to dream.
The themes are intellectual but the artist, with his characteristic quirkiness and deep sense of nuance, uses a language that is understood and enjoyed by all who feast in his works ambiance and voice. He is not influenced by any one artist. This provides him with a freshness and spontaneity that keeps the work very personal. The key element is the combination of colours that bring to mind Post-impressionist painters Henri Matisse and Gaugin's palettes in their ability to create harmonious tension. Add to this the warmth and energy of hues that make his work a vibrant rendition of Georges Braque's cubist still lifes. The synthesis of exaggerated proportions and awkward and contorted postures, reminiscent of Picasso, brings out the child in all of us. Zuzuk takes the commonplace: fish, hens, instruments a house, and imbues them with religious symbolism – animals and monsters and floating figures, all hovering familiar forms, reminiscent of Chagall. The objects often found in Roman's works form part of a personal iconography, symbols of his life experiences. With his visceral reaction to real-life objects and calculated representation of space, the artist makes the familiar seem unexpected and new. His work is charged with emotion and executed with intellectual determination, stimulated mind and spirit with the unimagined and the impossible.
Zuzuk's power is in his satire. His subjects encompass the rich panoply of modern life. Whether tense, fractured geometric representations of bustling industrial scenes against a rural landscape, couples interacting in everyday frolic, or children attempting to make sense of such a crazy world, his work is infused with a beguiling innocence and pervasive nostalgia. He creates simple figures of heroic proportion and dimension. Everything around him has a story to tell. This depth of feeling and sensitivity permeates all of Zuzuk's work, whether the subject is the joys and comedy of human friendship or the persistent and lyrical bonds of memory. Suffused with the glow of everyday happiness, his transcends our traditional notions of daily living–they offer hope, spontaneity and limitless potential in our paradoxical lives and ultimately, invite us to contemplate change.
EDUCATION
1980- 1984
Simferpol Art School, Crimea, Russia
1985
Kiev Academy of Fine Art, Kiev, Ukraine
EXHIBITIONS
2008
Edinburgh Art Fair, Edinburgh Corn Exchange, Edinburgh, United Kingdom
Art Ireland November Fair, RDS Main Hall, Dublin, Ireland
Chelsea Art Fair, Chelsea Old Town Hall, London, United Kingdom
Art Ireland Spring Collection 2008, Main Hall of RDS, Dublin, Ireland
2007
Art-Kyiv, Ukrainian House, Kyiv, Ukraine
2006
Art Kiev, Ukrainian House, Kiev, Ukraine
Art Ireland Winter Collection 2006, RDS Main Hall, Dublin, Ireland
2005
Art Ireland Winter
RDS Main Hall, Dublin, Ireland
Manchester Art Show, MICC G-MEX, Manchester, United Kingdom
2004
Art Ireland Winter 2004, RDS Main Hall, Dublin, Ireland
New York Art Expo, Soleil Gallery, New York, USA
Toronto Art Expo, Toronto, ON
2003
Soleil Gallery, Montreal, QC
EuropART, Palexpo, Geneva, Switzerland
2002
Art-Vienna, Vienna, Austria
2001
Gallery 133, Toronto, ON
Start Art Gallery, Breda, the Netherlands
2000
Anastasia Gallery, Oakville, ON
1999
Burch & Klem Gallery, Berlin, Germany
1998
Atelier Los, Thalwil, Switzerland
Dorint Hotel, Koln, Germany
Burch & Klem Gallery, Berlin, Germany
1997
Spektrum Gallery, Hamburg, Germany
Atelierschiff unartig Gallery, Frankfurt, Germany
1996
Christin Gallery, Toronto, ON
1995
ABA Gallery, Berlin, Germany
1994
K + B Gallery, Prague, Czech Republic
Haus der Ktinstler, Worpswede, Germany
1993
Miro Gallery, Berlin, Germany
Bilini Gallery, Florence, Italy
1992
Slovak Cultural Centre, Frankfurt, Germany
City Gallery, Prague, Czech Republic,
Russian Cultural Centre, Prague, Czech Republic
STAY CONNECTED
SUBSCRIBE TO RECEIVE EMAIL UPDATES ON ART EXHIBITIONS,
NEW ARRIVALS, SPECIAL EVENTS AND MORE…
GIFT CARD
...GIVE THE GIFT OF ART...