Biography: Elle Belz is a contemporary artist who enjoys marrying abstract with realism and prefers portraying bold and traditional subjects with a modern twist. She loves working with colors, playing…
W 72
x
H 48
in
Mixed Media on Canvas
W 30
x
H 48
in
Mixed Media on Canvas
---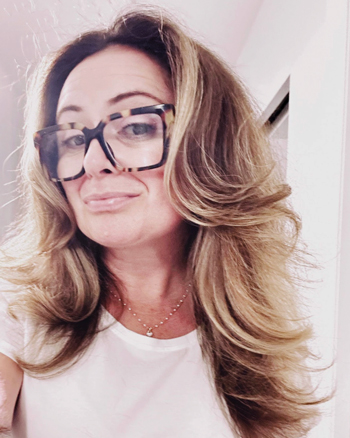 Biography: Elle Belz is a contemporary artist who enjoys marrying abstract with realism and prefers portraying bold and traditional subjects with a modern twist. She loves working with colors, playing with lighting and meaningful composition. Transparencies, play of shadows and scale while staying true to natural colors are her main focus. Mirroring the fragility and strength of flowers along with their natural movement, Elle tries to echo the human spirit. Each painting inspires to become a journey. "Elle's work reinvigorates the traditional floral life with exaggerated scale and a contemporary palette. Her works are immediately recognizable as flowers but are built up with layers of dynamic brushwork and gestural mark-making. Her expressive style allows her to capture both her subjects and the emotions that it invokes." -BlogTO
Originally from the south of France, she was always inclined to draw and paint from a young age; however, she ultimately followed a scientific career to become a microbiologist. Her childhood was marked by extensive traveling around the world due to her fathers career as an engineer building bridges, so she feels fortunate to have experienced various cultures and witnessed a variety of artistic expressions along the way. After a 20 year break, she rediscovered her true love for the arts thanks to her family and friend's love and support. Elle comes from a long lineage of female prussian artists from the 18th and 19th venture, including Julie de Villas and Adele Belz, known for their realism figurative work, portraits and landscapes. Self-thought, Elle received a Bachelor of Science (Hons) with a minor in Fine Arts History from the University of Prince Edward Island in 1997 and resides with her family in the suburbs of Toronto, Canada
EDUCATION
• Bachelors of Science (Microbiology) Honours, minor in Fine Arts History, 1997 Prince Edward Island. Canada
• Liberal Arts (Science and Arts) 1994, University of Hawaii. Hawaii. US
• Kaiser High school – 1992. Honolulu, Hawaii Experience
• Elle Belz Fine Arts- Mural partnerships with Primewalls, Canada.
• RDP Associates – R&D Government Funding
• OME Group – SR&ED technical consultant
• Triosyn Corp.
SOLO EXHIBITIONS
2020    Group spring exhibit "petalis Aqua" Abbozzo Gallery- 401 Richmond rd, Toronto On
2019    "Stardust" Abbozzo Gallery – 401 Richmond rd, Toronto On
2018    "Heaven on Earth" Westland Gallery – 156 Wortley Rd, London ON
2017    "Winter" Art Square Gallery – 334 Dundas ave Toronto KUHIO Museum: Won 1st prize – watercolour 1992    Honolulu Hawaii.
PRESS
West of the City Magazine – summer 2020    edition
Toronto Star Magazine – May 2021
British House and Garden – June, July, August, September 2018 edition
STAY CONNECTED
SUBSCRIBE TO RECEIVE EMAIL UPDATES ON ART EXHIBITIONS,
NEW ARRIVALS, SPECIAL EVENTS AND MORE…
GIFT CARD
...GIVE THE GIFT OF ART...