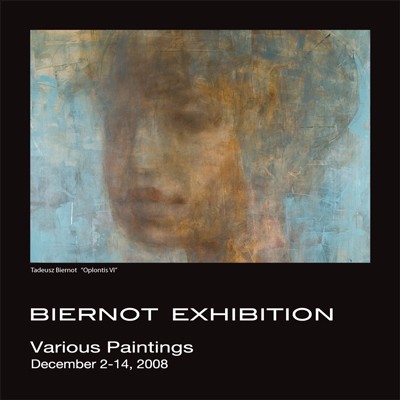 "VARIOUS PAINTINGS"
December 2 – 14, 2008
Opening reception with artists present:
Saturday, December 6, 1-5 pm
Captivating work by renown artists Ilona and Tadeusz Biernot, whimsical abstract and figurative work, portraiture, mystical beauty of orchids in its distinctive style and variety of media….

Tadeusz's work can be best described paraphrasing Cicero who states that man not so much creates as discovers and rediscovers. His paintings reflect the topography of his memory, its consciousness and sub-consciousness. Biernot sifts through his own experiences and emotions, factual and well as imagined, and enlivens them as visual forms both abstract and non-abstract using a variety of media – pastels, acrylics, oils on canvas, paper and wood.

The mystical beauty of the orchid is the inspiration for Ilona's work. The essence of her paintings inspired by this mysterious flower is to capture the beauty of its delicate form that blurs the boundaries between nature and abstract. Richness of colour and a touch of gold-leaf combined with seductive shapes transcends time and personifies the orchid, strikes emotions engaging the viewer into an emotional experience.
STAY CONNECTED
SUBSCRIBE TO RECEIVE EMAIL UPDATES ON ART EXHIBITIONS,
NEW ARRIVALS, SPECIAL EVENTS AND MORE…
GIFT CARD
...GIVE THE GIFT OF ART...